About
"Many people were first taught to embroider by their mother or grandmother and have been stitching most of their lives. I did
a few pieces at
school but it wasn't until much later on in life (after careers

s
uch as mechanical engineer and croupier) that I really became interested in it. I enrolled on a textile home study course but frustrated at not being able to experiment because I didn't know enough
basics, I decided to lear
n hand embroidery techniques and w
as aw
arded a place on The Royal School of Needlework Apprenticeship. I graduated in 2006 and have taught for the RSN on certificated, diploma and seasonal
courses in several locations for 10 years. I now run classes of my own in the UK and abroad and work on commissions big and small. Check out my
classes page
to see where I'm currently teaching!
I went on to gain a Certificate in Education from Greenwich University and a Diploma in Fine Art from the Cyprus College of Art. I am also a member of the Rochester Cathedral Embroiderers.
I am the author of "The Royal School of Needlework - Essential Stitch Guide to Silk Shading' (it does what it says on the cover!). I was also lucky enough to be part of the team of embroiderers who worked the embroidery on the wedding dress of The Duchess of Cambridge in 2011 and more recently I made the replica 105th Napoleonic standard for the Waterloo 200 commemorations, 2015 (read more about this in
my blog
!)."
"RSN Essential Stitch Guide to Silk Shading"
Available in English, Russian and French!
'Other silk shading books on the market are good for specific projects that the authors have designed but if you would like to create your own, or change an existing design to reflect your own taste, I highly recommend Sarah Homfray's book' - Sarah Halsey, President of the Bay Area Samplers Guild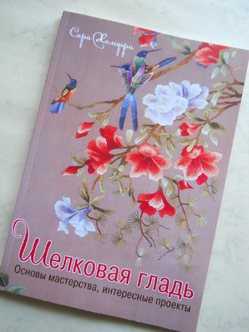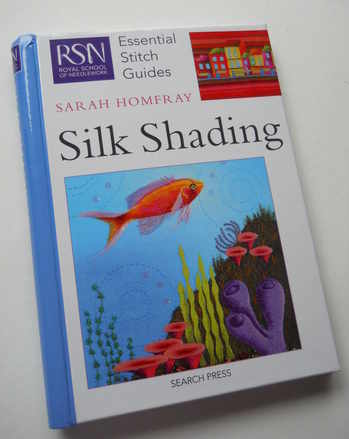 Learn the beautiful art of silk shading with Sarah's book!
What's it about? This book takes you through the whole technique of silk shading as it is taught by the Royal School of Needlework, and is a great accompaniment to the Certificate and Diploma course.
What's inside? An introduction and history to the technique; materials and equipment; a section about design and colour; inspiration; composition; transferring the design; frames; stitches to enhance your silk shading; getting started (learn the technique with a simple silk shading exercise); more complex shapes; how to tackle curves; how to create different textures; taking your silk shading further (design, threads, fabrics, backgrounds); how to finish your silk shading and a troubleshooting section.
Read the full review of this book by the President of the Bay Area Samplers Guild here
Sarah
Prizes
Finalist in the Bridging Arts British Sari Story competition, 2010
Gold and Silver Wire Drawers Goldwork Prize, 2005
Winner of the RSN Stitch Sampler Design Competition, 2005
Hilda
Watson Prize for Silk Shading, 2004
Qualifications
Diploma in Fine Art, Cyprus College of Art, 2009
Certificate in Education, Greenwich University and North West Kent College, 2008
Diploma in Traditional Hand Embroidery, Royal School of Needlework, 2006
BTEC in Botanical Painting and Drawing, Richmond College, 2006
NOCN in Printmaking, 2005
NOCN in Art and Design, 2004