Classes
For the truly best learning experience, join Sarah on one of her classes. Sarah has taught abroad as well as the UK, so if you are further afield keep checking back; you never know, she might be holding a class in your area!
The classes page is updated regularly as new classes are added, so keep checking or sign up to
Sarah's newsletter
to get class info delivered straight to your inbox.
2017 current class programme (listed by date):
---
Distance learning classes
Current classes: 'Love, Sin and Morality' and 'Spring'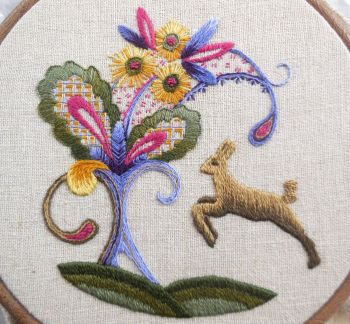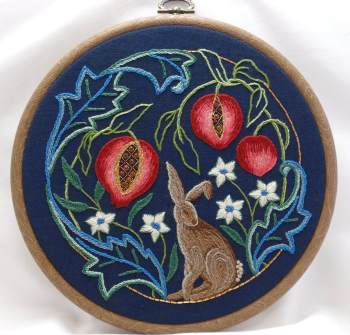 'Spring' 'Love, Sin and Morality'

All of the information on these courses is on the distance learning class page here.
---

The Kingcombe Centre, Dorset Wildlife Trust

Toller Porcorum, Dorchester, Dorset, DT2 0EQ
Friday 29th September 2017 - 2nd October 2017
Bespoke Embroidered illuminated monograms Stitch retreat
Price: £650 (Accomodation, all meals and materials included)


RSN-trained tutors Angela Bishop and Sarah Homfray invite you to the tranquil Kingcombe centre in Dorset for a fun-filled few days of design and stitching.This long weekend retreat is structured for you to create your own bespoke embroidered, illuminated monogram using beautiful metallic threads, embroidery threads and embellishments. We will assist you with the design, choosing suitable embroidery techniques and ideas to suit your abilities. Techniques covered are creating and applying a design, surface stitching, silk shading, goldwork and stump work.
Tuition, class materials, accomodation and all of your meals are included in the price.
We are also offering private tuition outside class time should you require help with a personal project you are working on.There will be a shop available at different times
over the weekend to purchase a variety of embroidery supplies and kits for you to take home and a few nice suprise.
Level: All abilites will be catered for from first steps to advanced level
For more information and to book, visit the Eternal Embroidery website here
---

Heritage Skills Centre
Lincoln Castle, Castle Hill, Lincoln, Lincolnshire, LN1 3AA
Saturday 21st October 2017 - Animals in Jacobean Crewelwork embroidery 10.00-4.00

Price:
£65 (materials included)
Taking a close look at animals depicted in historical Jacobean crewelwork, we will look at the styles and stitches used to represent them, then have a go at our own animal inspired design.
Suitable for those new to the crewelwork technique and/or those interested in historical Jacobean crewelwork design.
---

Heritage Skills Centre
Lincoln Castle, Castle Hill, Lincoln, Lincolnshire, LN1 3AA
Saturday 18th November 2017 - Silk ribbon embroidery, festive wreath 10.00-4.00

Price:
£65 (materials included)
Using the beautiful art of 17th Century silk ribbon embroidery, we will create a seasonal winter wreath including ribbon roses, ribbon stitch leaves and ribbon holly leaves, embellished with hand stitching.
Suitable for those new to ribbon embroidery
---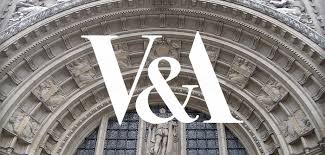 The Victoria and Albert Museum

Cromwell Road, London, SW7 2RL
Saturday 2nd December 2017 - Opus Anglicanum 10.30-4.30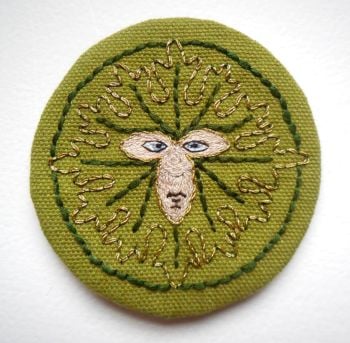 Price:
£74-£92 (materials included)
Sarah returns to the V&A for this one day workshop to share skills outlined in Embroidery: A Makers Guide (Thames & Hudson / V&A Publishing), a new practical book containing 15 step-by-step projects inspired by museum pieces from around the world. In this class, you will try your hand at the Opus Anglicanum medieval embroidery technique. Sarah will guide you step by step through this Green Man design, working split stitch fillings, surface couching and underside couching.
All materials provided, suitable for beginners.
Sorry, you missed:
Class: Elizabethan Knot Gardens
Venue: Heritage Skills Centre
Date: 16th September 2017
Venue: Heritage Skills Centre, Lincoln Castle
Class: Silk shading and Stumpwork
Venue: Heritage Skills Centre, Lincoln Castle
Class: Whitework - Drawn thread
Venue: Heritage Skills Centre, Lincoln Castle
Class: Medieval Embroidery
Venue: Heritage Skills Centre, Lincoln Castle
Class:Goldwork Embroidery
Venue: Heritage Skills Centre, Lincoln Castle
Class: Drawing and designing for embroidery
Venue: Royal School of Needlework, Hampton Court Palace
Venue: Heritage Skills Centre
Date: Saturday 25th March 2017
Venue: Heritage Skills Centre
Date: Friday 10th March 2017
Venue: Heritage Skills Centre, Lincoln Castle
Date: Saturday 11th February 2017
Venue: The Victoria and Albert Museum
Date: Saturday 12th November 2016
Venue: The Victoria and Albert Museum
Date: Friday 11th November 2016
Class: Blackwork and gold
Date: Sunday 6th November 2016
Class: Embroidered Samplers
Venue: Lakeside Arts Centre, Nottingham University
Date: Saturday 15th October 2016
Class: Stumpwork Embroidery
Date: Saturday 23rd July 2016
Class: Jacobean Crewelwork
Class: Elizabethan Blackwork
Venue: V&A Museum, London
Class: Embroidered samplers
Class: The Queen Mary Retreat
Venue: The Queen Mary, Long Beach, California
Date: 21st September - 27th September 2015
Class: Beginners embroidery
Venue: THe Arnold House, Rugby
Class: 17th Century stumpwork
Venue: The Arnold House, Rugby
Class: Elizabethan blackwork
Class: Embroidery Samplers
Class: Balckwork Embroidery
Venue: The Arnold House, Rugby
Class: Stumpwork and silk shading
Venue: Rufford Abbey, Craft Centre, Nottinghamshire
Date: 11th/12th October 2014
Class:Goldwork embroidery
Venue:The Big Textile Show
Date:Sat 27th September 2014
Class: Goldwork embrodiery
Venue: Rufford Abbey Craft Centre, Ollerton, Nottinghamshire
Class: Jacobean embroidery
Venue: Rufford Abbey Carft Centre, Ollerton, Nottinghamshire
Class: Love and symbolism in Stitch, brought to you by the V&A Museum

Venue: The Victoria and Albert Museum London, UK
Dates: Sat 8th, Sunday 9th March 2014
Venue: Arnold House, Rugby
Date: Saturday 3rd August 2013
Class: 'The Lady and the Unicorn'
V
enue:
Arnold House, Rugby
Date:
Sunday 4th August 2013
Class:
'Jewels of the Raj - Indian Shisha Mirror embroidery'
Venue: Arnold House. Rugby
Date:Sunday May 12th 2013
November 25th November 2012
'Designing for embroidery'
Stumpwork creatures of England's woodlands
Tutor: Sarah Homfray
Sunday 11th December 2011
Indian Embroidery, Shisha Mirror work
Royal School of Needlework, Hampton Court Palace, Surrey
Sunday 6th November 2011 (1 day)